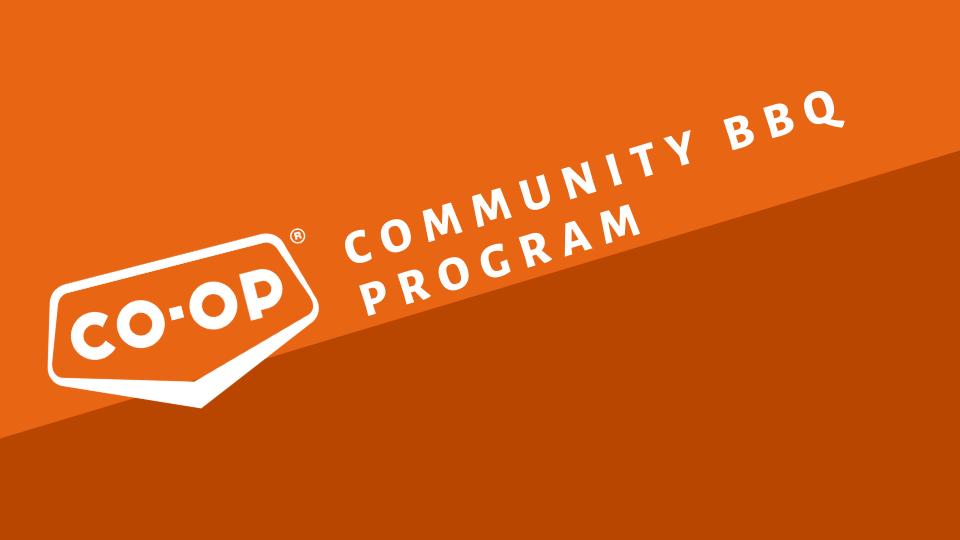 Community BBQ Program
May 6, 2022
Our Community BBQ Program supports local community groups and non-profit organizations. We welcome the opportunity to be involved and help build a stronger community through fundraising programs that enrich the lives of community members. If you are looking to host a BBQ, Homestead has equipment and in-kind donations to help make your events successful.
**Homestead Co-op BBQ's are currently available on-site at the Carman, La Salle & Treherne Food Stores. Portage area groups will need to host the BBQ at an off-site location.
BBQ will be provided on a first come first serve basis.
Community BBQ Program (Free to Use*)
Through an application process, the community BBQ will be free to use for fundraising purposes, pending certain conditions.

*Conditions:

Proof of Permit by Health Inspector prior to taking BBQ away
BBQ to stay within City Limits/Homestead Co-op's trading area
BBQ is used for non-profit or community group
All product (meat, buns, pop, water, condiments, cutlery, etc.) must be purchased from the Co-op
Damage Deposit: $150
The deposit is to cover such things as:

Returned Cleanliness (Wiped down, Grease trap cleaned)
Equipment in working order
Hitch
Pictures identifying the condition of the BBQ going out and again pictures taken to identify the condition of the BBQ coming Back
Canopy (if required)
Co-op Community BBQ Bundle

Co-op will donate to start the approved group off (using Co-op brand products wherever possible):
Propane (2 x 30lb tanks)
3 dozen 12 pack pop (Co-op brand wherever possible)
1 dozen 12 pack Co-op water
2 packages of Co-op Smokies
Co-op will include the following for the event:

BBQ ready for pick up at the white shed in our Portage Food Store parking lot

Full propane tanks
Tent- to be loaded into vehicle (if needed)
Pail for sanitization purposes.
Water Test Strips to use to test sanitizing solution.
Water jug and spigot for hand wash station.
Catch basin
Paper towel
Utensils
• Lighter
• Tongs x 2
• Spatula x 2
• Thermometer
• Scraper for Grease Tray
Charge Back List

If any of the items provided with the BBQ are missing or damaged upon return, the following fees will be deducted from the deposit:
Pail/Basin--$ 2
Water Jug--$10
Lighter--$5
Tongs --$10 each
Spatula --$10 each
Thermometer --$10
Scraper for Grease Tray--$10
Hitch--$60
If BBQ is not returned to satisfactory standards, the following fees may be applied:
Clean up fee of $50
Damage to Temperature controls- $30 each
Any damage to the structure of the BBQ- cost of repairs
Any Damage to the Tent- cost of repairs
**Please return the BBQ at least 1 hour before closing
For the Group:

The following recommendations are up to the community group to monitor. This piece is also guided by the permit the groups will receive to hold the BBQ's.
Food Preparation
Only reheating, hot holding, and/or cold holding of precooked
and ready to eat foods (hot dogs, precooked burger patties, precooked sausages) is allowed
Use food handling utensils (tongs, spoons, spatulas, etc.) or disposable gloves to minimize manual contact. Discard gloves as often as necessary to prevent contamination of food and wash hands in between glove changes
Ensure there is a metal stem thermometer
All cooked products should reach internal temperature of 74 degrees Celsius or higher
Hot hold temperature is 60 degrees Celsius or higher
Food must be stored in food grade covered containers, packaging, or display enclosures
Eligibility
We welcome applications from:
Non-profit/registered charitable organizations exempt from taxation under the Canada Income Tax Act, whose programs and services benefit our community
Not-for-profit community groups and youth organizations (Non-registered are also considered)
Please note that someone on your team must have a Co-op membership to participate in this program, and that your group's purpose should align with our Co-op's values of Integrity | Excellence | Responsibility.
We also encourage all groups to read our Donation and Sponsorship Guidelines before applying.

**For-profit businesses are not eligible for this program, nor are any registered charities, non-profit groups, and community organizations operating outside Homestead Co-op's trading area.

How it works
Complete the online application form a minimum of two weeks in advance of your fundraising event.
Recipients are chosen at the discretion of Homestead Co-op. Preference is given to causes and organizations that align with Co-op's values.

Homestead Co-op uses Do Some Good to power their application forms. Apply Here for our Community BBQ Program!
We Are Co-op
Homestead Co-op, like other community-minded businesses, receives numerous requests for donations. Please allow a minimum of 2 weeks to review your requests and respond. Homestead Co-op works hard to assist in as many community organizations as possible, however due to the high volume of requests received, not all worthwhile proposals will be approved. Such a response does not reflect upon the value of your organization and the valuable service you provide.
Homestead is built on a foundation of community involvement and recognizes and values the responsibility of providing support for important activities in the communities we serve: Austin, Carman, La Salle, MacGregor, Oakville, Portage la Prairie, and Treherne.

Discover more: