Co-op Home & Building Solutions
Actions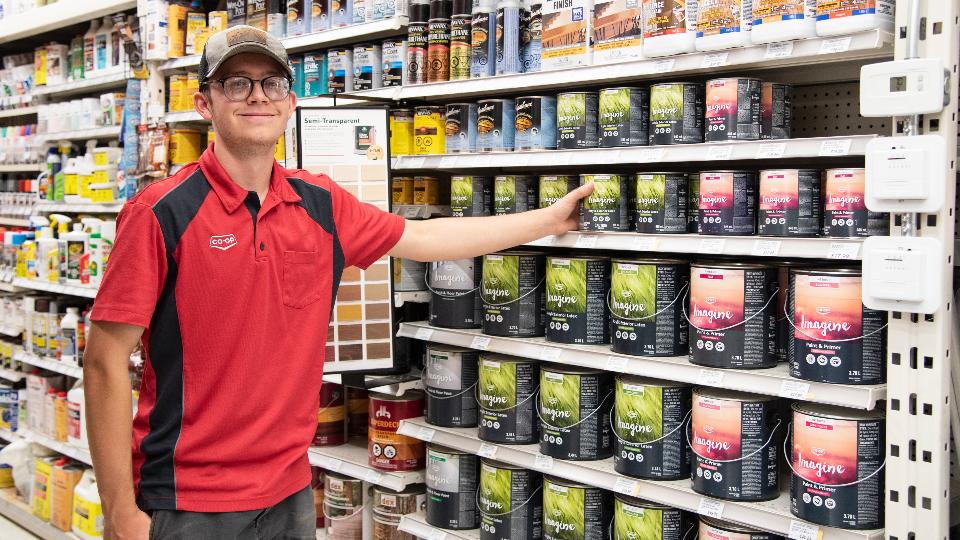 Co-op Home & Building Solutions
January 17, 2019
From small renovations to major construction, our Homestead Co-op Home Centre locations in Carman, La Salle and MacGregor have what you need to complete your project and stay on budget. We invite you to consider us for your next project; we know you'll be happy with the value we provide.
What We Do
Home & Building Solutions
We offer products and solutions for all of your household needs. Whether it's finishing touches or major projects, we've got you covered!
Co-op Imagine Paint
Co-op is proud of its family line of CO-OP® IMAGINE interior and exterior paint.
Boasting a vast colour palette, the natural western Canadian landscape has provided the inspiration for the paint's colour offerings – highlighted through Imagine's labels that showcase wide-open Prairie skies, shimmering lakes and tall, green grasses. Just as its name suggests, the depth of Imagine's colours are limited by only that of one's imagination.
More than simply providing a broad colour selection, our paint offers a high-quality and long-lasting finish suitable for any surface. Made in Canada, the Imagine family line of paint is engineered to last: it's colour-safe, fadeless and stain-resistant, as well as simple to apply and easy to clean.
Small Building Plans
Looking for a fun and easy project? Find everything you need to start building with these simple project plans, quality materials and expert advice from any of our Homestead Co-op Home Centres in Carman, La Salle or MacGregor. Some of our free Co-op DIY plans include a workbench, garden box, compost bin and picnic table.
Check out all of our plans here, complete with step-by-step instructions: Co-op Small Project Plans. And show us what you build! Share your projects on social media with the tag #BuildItWithCoop.
Home & Building Design
Ready to decorate? We can help you with your flooring, fixtures and painting decisions.
We partner with all the major suppliers for everything from floor to roof and also offer specialty services like:
Graber Blinds
Stone wood Custom Bath Vanities
Flo Form countertops
Euro-rite kitchen cabinets

Gardening Solutions
Maximize your enjoyment of the gardening season by visiting your local Co-op for your gardening and outdoor needs.
Lumber
Our lumber offerings give you the opportunity to get the materials you need to tackle your projects.
Estimation & Contracting Services
Any project is more than just materials. It takes a plan and hard work to get the job done. Let us help! We offer estimation and contracting services to get you in touch with the right people to make your project run smoothly.
Get in touch!
Want to get in touch with us? Give us a call or check out or online delivery and pickup home centre order form or visit Build.crs for online shopping with pick up at one of our locations
Carman Home Centre: 204-745-6791
MacGregor Home Centre: 204-685-2033
La Salle Home Centre: 204-736-3293
Discover more: