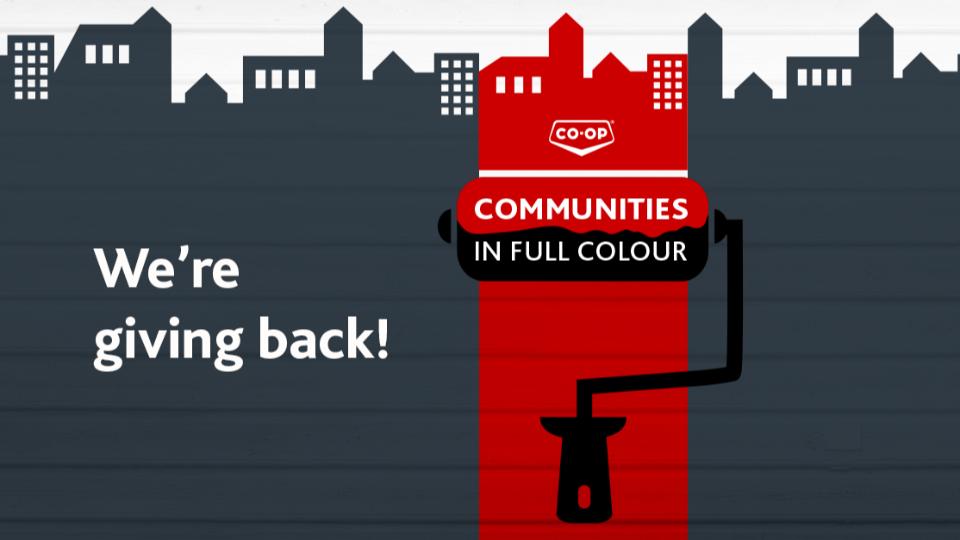 Communities in Full Colour
February 22, 2021
COMMUNITIES IN FULL COLOUR
Communities in Full Colour is a community-investment commitment that gives back to the places Co-op calls home. We are working to brighten up our communities by donating CO-OP® Imagine Paint to the projects and initiatives that matter most to you.
See more details about the program below or stop by one of our local Homestead Co-op Home Centres in Carman, La Salle and MacGregor.
Scope of program

The Communities in Full Colour paint donation program is designed to provide local community organizations with free paint to be used towards local community improvements. The paint donation covers any interior, exterior, primer, stain or specialty coatings required. The program does NOT include applicators, surface preparation or repair products that might be required for a given project.

Who is eligible?

The Communities in Full Colour paint donation is available to registered charities, registered nonprofits, registered community groups, youth sport and recreation associations, and community improvement associations. It should be noted that all locations have limited funds available to allocate.

Priority will be given to applications that:

Support projects located within the trading area of Homestead Co-op
Align with the charitable priorities of Homestead Co-op
Identify a solution to a community need

Projects ineligible for funding include ones that:

Support religious- or political-affiliated organizations
Do not align with the charitable priorities of Homestead Co-op

How to Apply

Complete the Communities in Full Colour application form below in full. We appreciate you providing details on the full scope of the project to be completed, even if it extends beyond paint.

Completed application forms will be directed to the following managers at the Home Centre location closest to you:

Carman Home Centre
Don Halbesma
Email: don.halbesma@homestead.crs
Phone: 204-745-6791

La Salle Home Centre
Morris Foidart
Email: morris.foidart@homestead.crs
Phone: 204-736-3293
MacGregor Home Centre
John Doyle
Email: john.doyle@homestead.crs
Phone: 204-685-2033
We Want to Share Your Community Improvement Journey!
Thank you for your interest in the Co-op Communities in Full Colour paint donation program. We would love to follow along with your painting journey. To extend the exposure of both this amazing program and your organization, please send before, during and after photos to our Marketing and Member Relations Coordinator, Shannon Vaughan, at donations@homestead.crs or tag us on Facebook, Twitter and Instagram.

Discover more: