Meet our new General Manager
Actions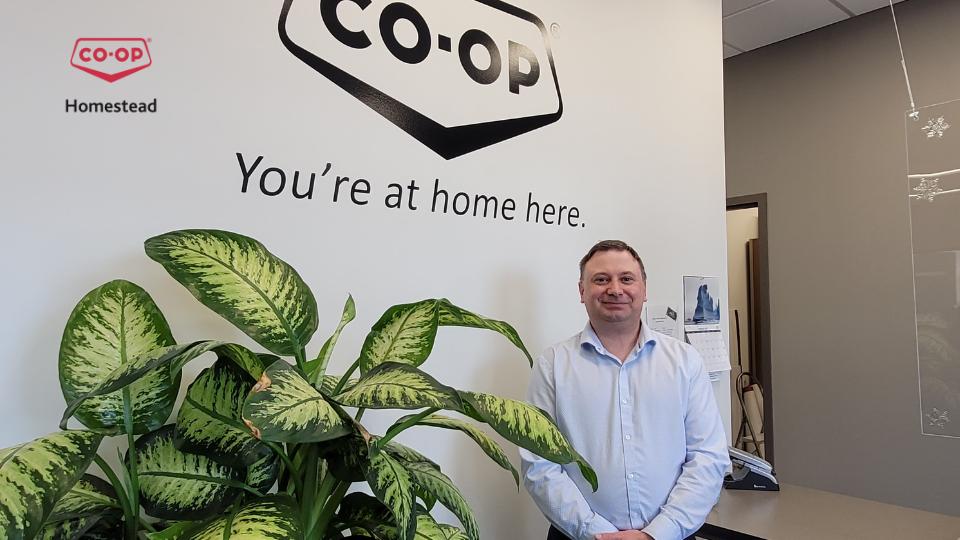 Meet our new General Manager
February 16, 2021
The Board of Directors for Homestead Consumers Co-op Ltd. welcomed Trent Schidlowsky to the position of General Manager effective February 1, 2021.

A warm welcome

Lorne Hulme, President of the Board of Directors said: "Following former General Manager Kevin Dale's retirement, we're very excited to have Trent on board. His depth of experience, knowledge and leadership capabilities within the Co-operative Retailing System (CRS) will complement the team already in place here at Homestead. It is very important to our organization that we are committed to contributing to the betterment of our communities, our members, and our employees. We know Trent will continue embodying these values within our organization. Please join us in welcoming Trent Schidlowsky to Homestead Co-op."
A little background
Trent has held the position of Business Relations Advisor with Federated Co-operatives Limited, East Zone for the past 3 ½ years. Trent has supported and assisted local co-operatives within the East Zone by providing strategic direction, leadership, and partnerships while working with the General Managers and Boards of Directors.

Prior to this, Trent has overseen business operations and strategy while leading teams at several retail Co-ops in Saskatchewan and Manitoba over his 29 years with the CRS. Trent has been actively involved and engaged in community development throughout his career. Trent has recently attained a graduated diploma in management and is a graduate student in the Faculty of Business (MBA program) with Athabasca University.

A message from Trent

"Homestead Co-op is a diverse and successful local Co-op with a large geographic trading area. Local is an intrinsic value that has been instilled in me throughout my life. Co-ops are a different business model; through our autonomous co-op, we are able to share our profits with our members, and that is truly local! I am thrilled to work with the team at Homestead Co-op as we continue to serve our members in all of our great communities." said Trent Schidlowsky, General Manager of Homestead Co-op.
The Board, Management and Team Members of Homestead Co-op invite our members and customers to join us in welcoming Trent into the many communities we serve.