Homestead Partners With McCain for Free Fry Day
Actions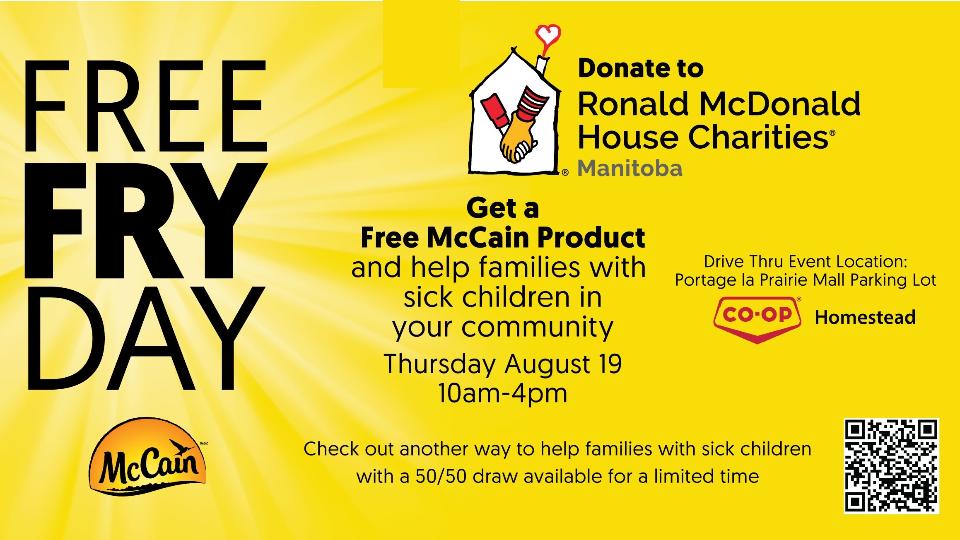 Homestead Partners With McCain for Free Fry Day
August 3, 2021
Free Fry Day!

Thursday is now FRY-DAY! FREE FRY DAY that is! We're excited to announce that we're partnering with McCain for this year's Free Fry Day in Portage la Prairie, Manitoba! On Thursday, August 19th from 10 am – 4 pm, head to the Portage Mall Parking Lot for this drive-through community event and get FREE McCain French fries, early giveaways from Homestead, and the opportunity to donate to Ronald McDonald House Charities (RMHC) Manitoba to help families of sick children from right here in Portage la Prairie!

When and Where?
Homestead Co-op is proud to stand behind McCain Foods for Free Fry Day in support of Ronald McDonald House Charities Manitoba Thursday August 19th! To participate in the Free Fry Day giveaway, guests can stop by locations in Portage or Brandon between 10 am - 4 pm. Each vehicle will receive two 6 Lbs. bags of McCain French fries through contactless curbside pickup.

TIMES & LOCATIONS

PORTAGE LA PRAIRIE
PORTAGE MALL PARKING LOT
10:00 A.M. – 4:00 P.M.

BRANDON
KEYSTONE CENTRE
#1 1175 18th St
10:00 A.M. – 4:00 P.M.
See who won the RMHC 50/50 draw HERE!
No Small Potatoes

McCain Foods announced they expanded their popular Free Fry Day fundraising event to include Portage la Prairie, Manitoba. In partnership with Homestead Co-op and Heritage Co-op in Brandon, the Free Fry Day event will raise funds for Ronald McDonald House Charities Manitoba, while also supporting Canadian potato farmers. On Thursday August 19th, nearly 20,000 bags of McCain French fries will be given away through contactless curbside pickup in both Portage and Brandon.

RMHC Keeping Families Close

RMHC Manitoba serves over 2000 families annually. When a child is seriously sick or injured, many families must leave their home, their communities and their support system in order to get the specialized care their child needs. RMHC Manitoba is now building a new Ronald McDonald House to help more families with sick or injured children than ever before. Be part of something special. Help plant the seeds of a legacy that will grow in our community for generations to come.

About McCain Foods (Canada)

McCain Foods (Canada) is the Canadian division of McCain Foods Limited, an international leader in the frozen food industry. McCain Foods is the world's largest manufacturer of frozen French fries, and produces other quality products such as potato specialties, appetizers, vegetables, and desserts that can be found in restaurants and retail stores in more than 160 countries around the world. In Canada, the company has eight production facilities with approximately 2,400 employees and, in addition to its famous French fries and potato specialties, makes frozen desserts, snacks and appetizers.