Fuel Good Day Application Form
Actions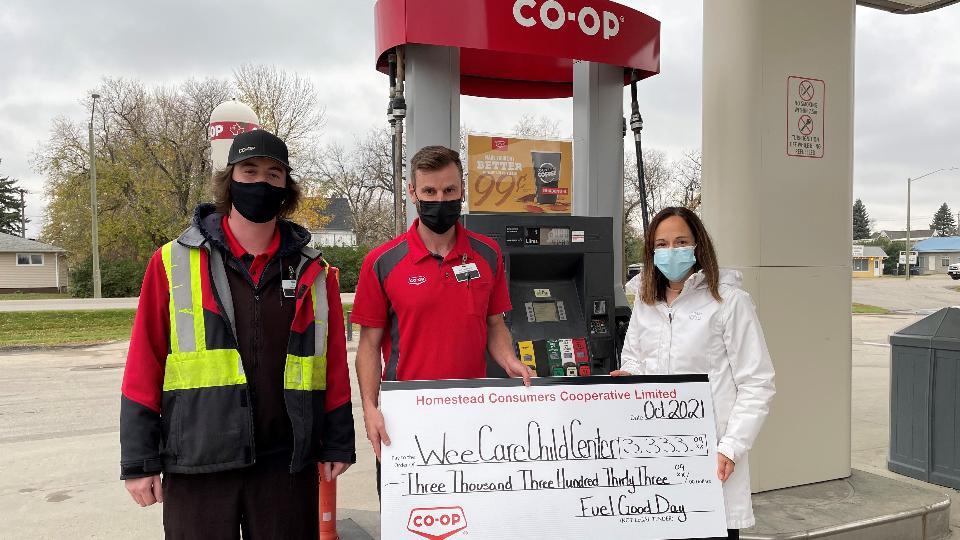 Fuel Good Day Application Form
May 9, 2022
Fueling Good
We are excited to once again present Fuel Good Day on Tuesday, September 20th, 2022.
This year, 10 cents per every litre of fuel purchased at Homestead Co-op Gas Bars on Fuel Good Day will be donated to two registered charities or non-profit organizations selected from our trading area. Since 2017, over $51,000 dollars has been raised and invested in our communities, supporting local growth across the area. Let's make Fuel Good Day 2022 a record-breaking year, filled with excitement and fun!
Want to Get Your Organization Involved?
If you are part of a registered charity or a non-profit organization and would like to be part of Fuel Good Day, please click on the link below to our online application form and submit it by 11:59 pm on Tuesday May 31st, 2021.
All groups must be non-profit or a registered charity community organizations within the general trading area of Homestead Consumers Co-op and reflect the cooperative principles, support our business objectives and further our brand recognition.
Applications will be accepted until 11:59pm on Tuesday May 31, 2022.
The winning groups will be notified at a later date whether or not you have been approved by the Fuel Good Day Committee.
We encourage all local non-profits and charities to sign up for a Homestead Co-op membership. For just $10, your organization can set up a lifetime membership number with Homestead Consumers Co-op. This number can and should be shared with everyone that supports your organization. When people use this number at any of our locations, those purchases will be tracked and a cheque will be made payable to your organization based on the percentage determined by our Board of Directors at the end of our fiscal year. These Patronage Cheques are typically issued in December every year. If your group is interested in a membership, please get in touch with our Credit and Equity Supervisor, Brenna Stratford-Kent at: brenna.stratford@homstead.crs or 431-304-6895.
Sponsorship and Donation Guidelines
Please read through our Sponsorship and Donation Guidelines before applying to be a part of Fuel Good Day to ensure you meet our criteria.

APPLY HERE
Homestead Co-op uses Do Some Good to power our application forms. Apply Here to be a part of 2022 Fuel Good Day and tell us how you'd help spread the word and get involved that day!

Questions?
Contact our Marketing and Communications Manager, Shannon Vaughan, for more information.
Phone: 204-745-2073
E-mail: donations@homestead.crs
Discover more: