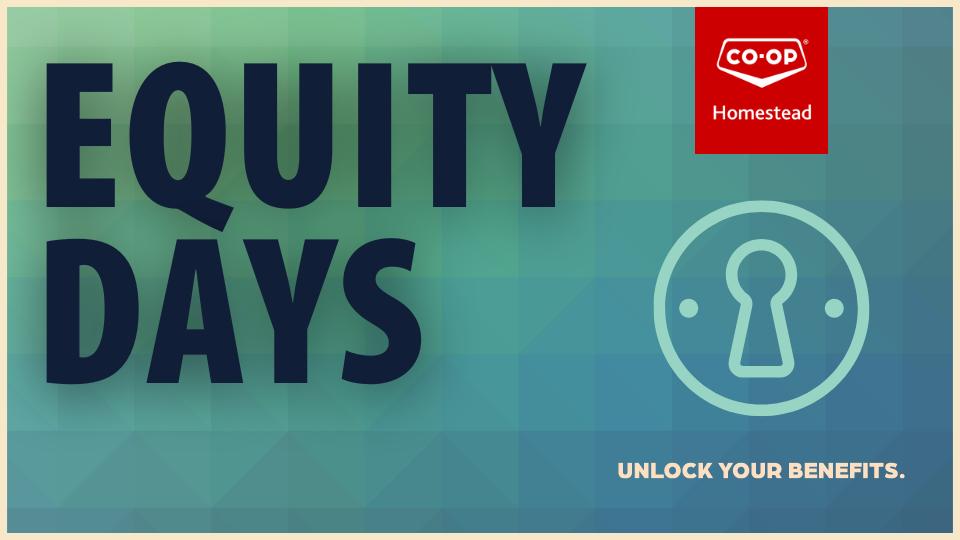 Equity Cheques 2022
November 21, 2022
2021 equity cheques are being mailed out on
November 21st, 2022.
We are returning over $3.2 million of our profits to Homestead Co-op members in cash and equity for their 2021 purchases. Despite the economic turmoil caused by the global pandemic and market for fuel Homestead Co-op had a very successful year of growth, ending with record sales. We are proud to continue to give back to member/owners with cash that goes right into their pocket and help stimulate the local economy. Thank you for supporting our different kind of business, owned by you!
Your equity allocation is based on your purchases with Homestead Co-op in the 2021 fiscal year. In your equity package that is coming with your cheque, you will find that our board of directors approved an allocation return of:
2021 Allocation Rates
Food 3%
Prescriptions 5%
Home Centres 2%
Oil and Grease 8%
Dyed Fuel 6% or 5.6 cents per litre*
Clear Fuel 5.5% or 6.7 cents per litre*
Agriculture 3.75%
*based on 2021 average selling price
As your locally owned and operated co-operative, we are a different kind of business and sharing profits with our member-owners is just one way we do things differently. Returning profits to our membership ensures that the money stays local and is re-invested in the communities we serve.
We have over 25,000 members and are sending out cheques totaling $3.2 million in cash to our membership in Austin, Carman, La Salle, MacGregor, Oakville, Portage la Prairie, Treherne and surrounding communities. The remainder of equity earned stays in our members' equity account.
Homestead Co-op has a longstanding history of supporting local growers and producers. To us, local is more than supporting Canadian and western Canadian businesses. We see local as offering product made right here in Manitoba, because we know that is important to you too.
Giving back to the communities in which we do business is one of the pillars that makes Homestead Co-op a different kind of business, but we could not do this without the support of our members. Throughout 2021, we donated to non-profits and charities doing great work in our communities with $120,000 in donations, and your support of our business helps ensure that we can continue to give back.
Homestead Co-op is known for returning its profits to our member-owners, and we thank each of you for your support in 2021 and we hope to earn your support in 2022. It continues to be our privilege to serve our over 25,000 members.
Get in Touch
Do you have a question we have not answered or need to let us know of an address change?
Feel free to contact us at 431-304-6900 or brenna.stratford@homestead.crs
Discover more: