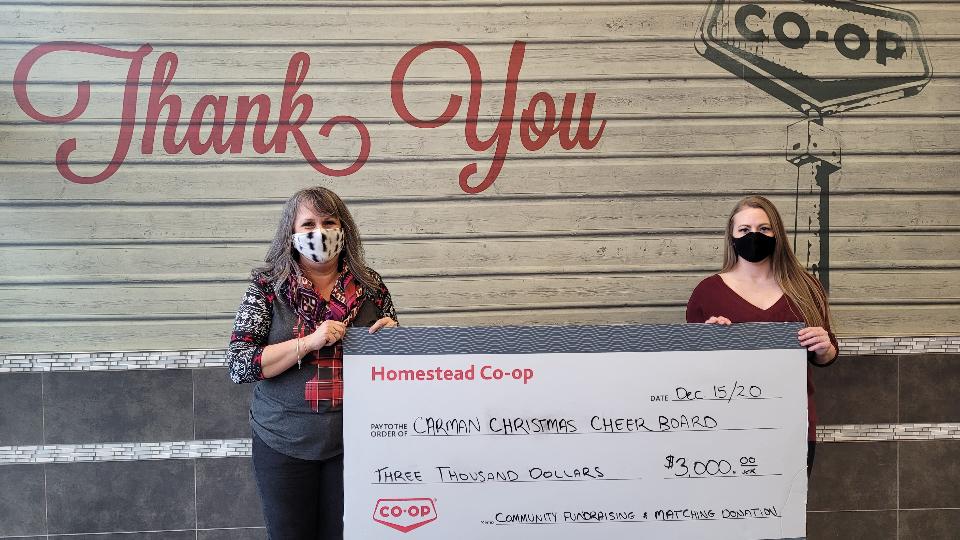 December 2020 Donations
December 18, 2020
Homestead Co-op takes extreme pride in being able to give back to our communities. It is very important to our organization that we are committed to contributing to the betterment of our communities, our members and our employees.

It is because of your support at our Co-op locations that we can give back generously to our community.

In 2019, we invested over $100,000 back into our community through donations and sponsorships.

December Donations

This December, we have donated $9,000 to the following community organizations.

Carman & District Christmas Cheer Board

For the Carman & District Christmas Cheer Board, we matched all Cheer Board donations raised at our Carman Food store tills from the community in December for a total donation of $3,000.00. We met with Kathy Reed on behalf of the Cheer Board to present the cheque on Tuesday December 15th to help with their operations in Carman and the surrounding areas.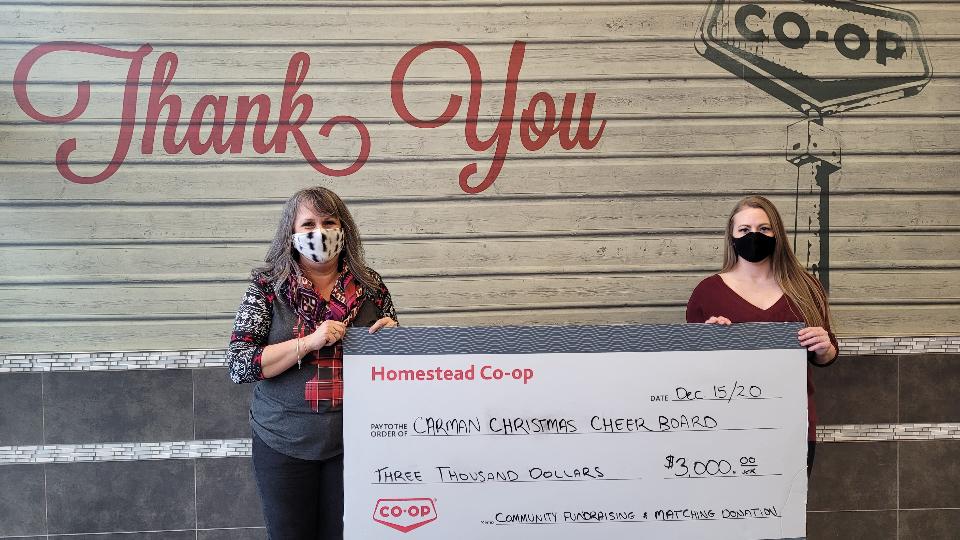 Salvation Army in Portage la Prairie

Homestead Co-op sets up a food donation bin every Christmas in our Portage Food Store and we match all donations of any Co-op brand non-perishable food items. This year's donations were lower than in previous years, so we decided to make a sizeable donation in the amount of $5,000 to not only help them at Christmas but in the coming months. We met with Brenda Hammond from the Portage la Prairie Salvation Army to present the cheque on Wednesday December 16th. You can read more about this story on Portageonline.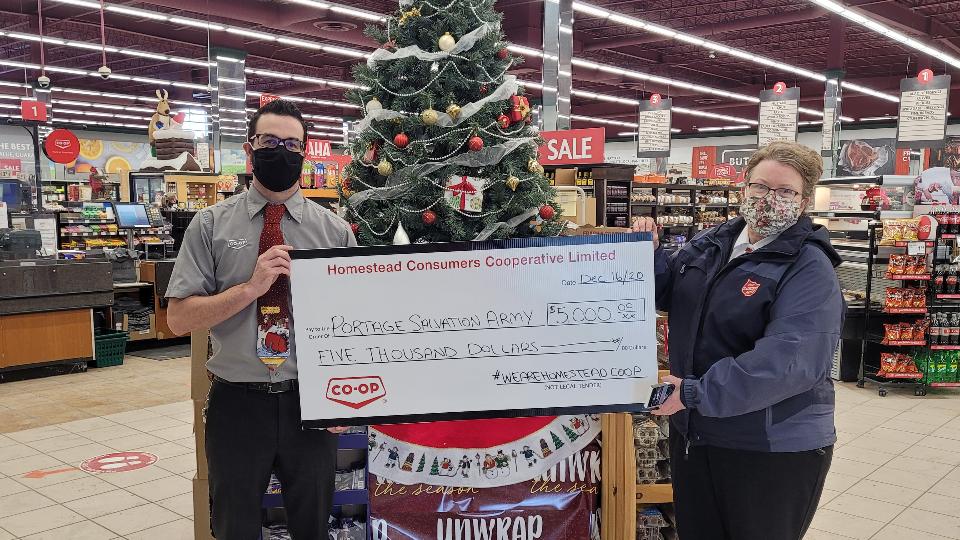 Treherne Christmas Cheer Board

We donated $1,000 to the Treherne Christmas Cheer Board to go towards helping fund their Christmas hampers. We met with Board Member Audrey Hutlet on Thursday December 17th to present the cheque. The Cheer Board will be distributing the funds to help those in need in Treherne and nearby surrounding area.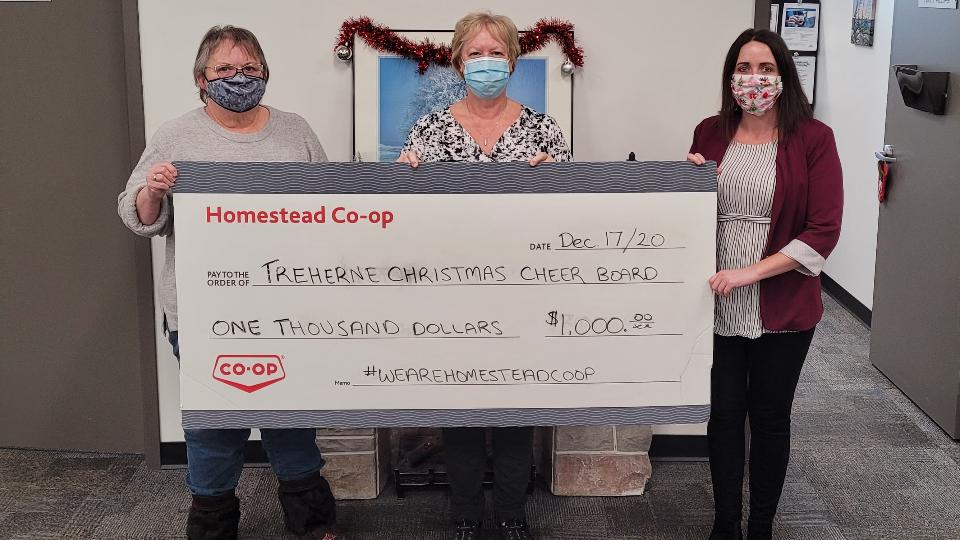 Golden Prairie Arts Council
We have a history of working together and supporting the Golden Prairie Arts Council in Carman. The Golden Prairie Arts Council is a non-profit organization that provides educational programs to the southern rural Manitoba arts community. Their heritage office building in Carman houses their exhibition art gallery, workshop & music classrooms, a gift shop, and an outdoor courtyard. They do so much good for the arts and culture community in Carman and the surrounding areas and we think that is important work. All donations in December are being matched by two anonymous donors so our donation of $1,000 is turning into $3,000!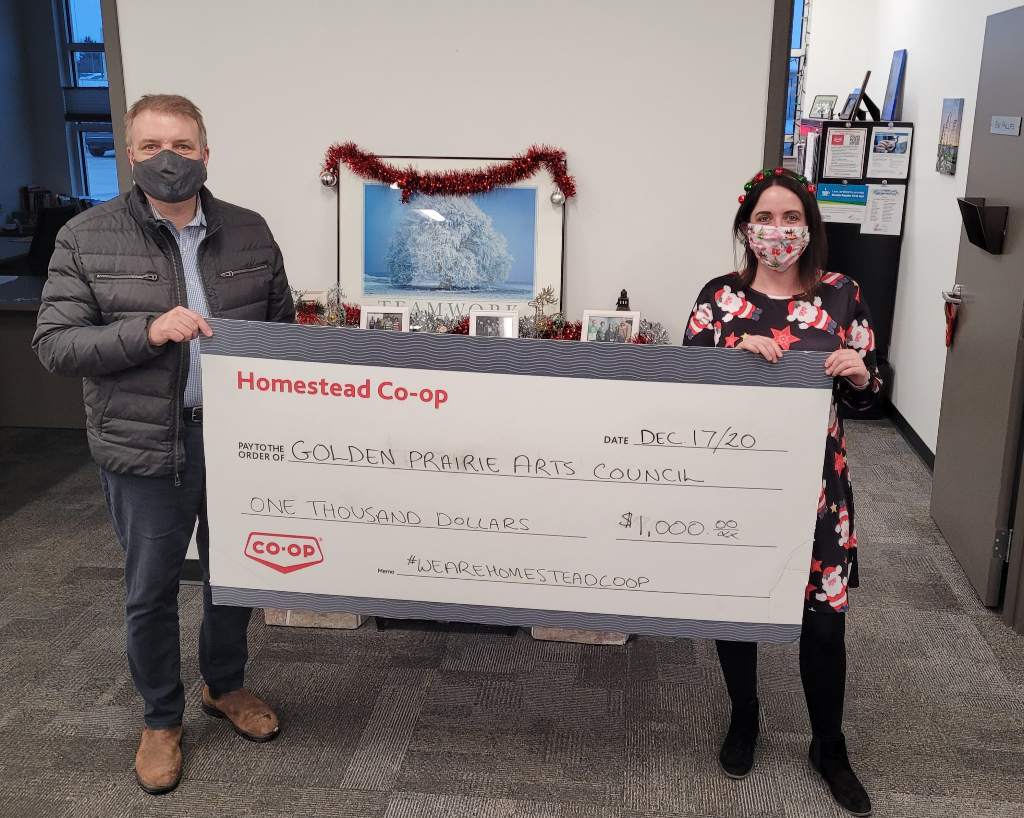 Sunset Palliative Care

We met with Coordinator and Board Member, Aldene Moroz (middle), and Board Member and Treasurer, Susan Johnson (left), on Wednesday December 30th to donate $2,000 to Sunset Palliative Care Inc. in Portage la Prairie. Sunset Palliative Care does very important work for their community, providing palliative care at no cost to the individual or their family. They can help provide emotional and practical support when families need it most. This donation will go towards expanding their Memory Garden on the Portage la Prairie Island Park, for use by families to enjoy or hold memorials for loved ones.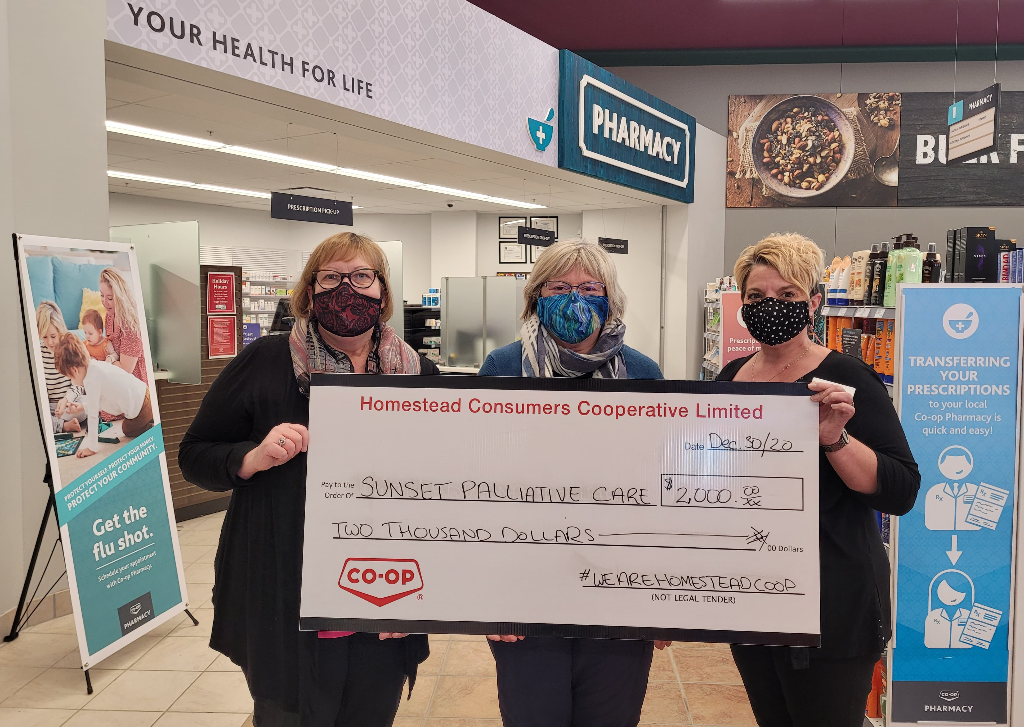 Herman Prior Activity Centre
We met with Executive Director, Chris Dumont, from the Herman Prior Activity Centre (HPAC) on Wednesday December 30th to present them with a donation of $1,000 to help them with their work in the Portage la Prairie community.
The HPAC is a place to meet with others. Many seniors find themselves living on their own and finding an economical way to socialize is very important for their mental health. With more than 25 programs, HPAC has something for everyone, including the chance to make new friends. The HPAC offers medical equipment such as wheelchairs and walkers for rent. There are professionals who come in for foot care, blood pressure and hearing clinics. An income tax program is available each year. Recently added is a community Tool Library where, for a nominal fee power and hand tools can be borrowed, making tools accessible to all. This donation will go towards keeping all of these important programs moving forward.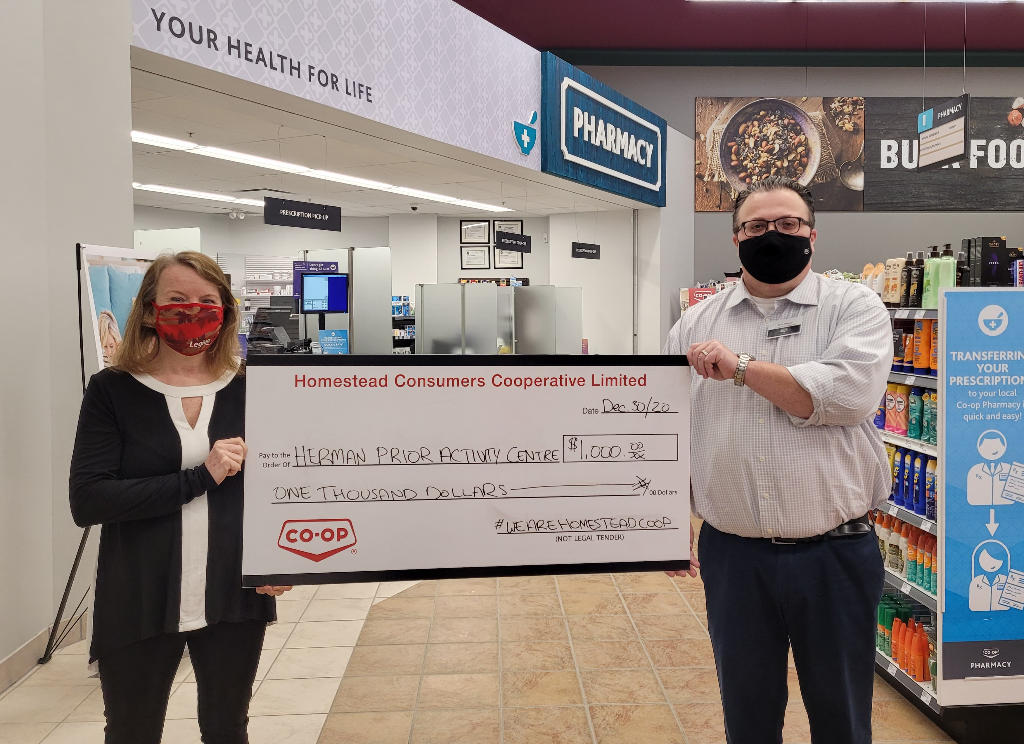 United Way Central Plains
We met with Fundsy (aka good sport and Executive Director, Randi Kehler) with United Way Central Plains to present them with a donation of $5,000. Through an annual fundraising campaign, United Way Central Plains maximizes available financial resources to enable their funded nonprofit organizations to improve our community's quality of life. Through the use of volunteers from the Board of Directors and community members United Way Central Plains distributes funds to meet current and ever changing human care needs within our community.
Our donation will go towards their annual fundraising campaign, which raises enough funds to provide support to nine different nonprofit organizations in the Central Plains area:
Big Brothers Big Sisters
Canadian Mental Health Association – Central Region
Child and Family Services Foundation's Chance 2 Camp Program
Compassionate Friends
Portage Family Abuse Prevention Centre
Portage Learning and Literacy Centre
Portage Service for Seniors
Sunset Palliative Care
Tupper Street Family Resource Centre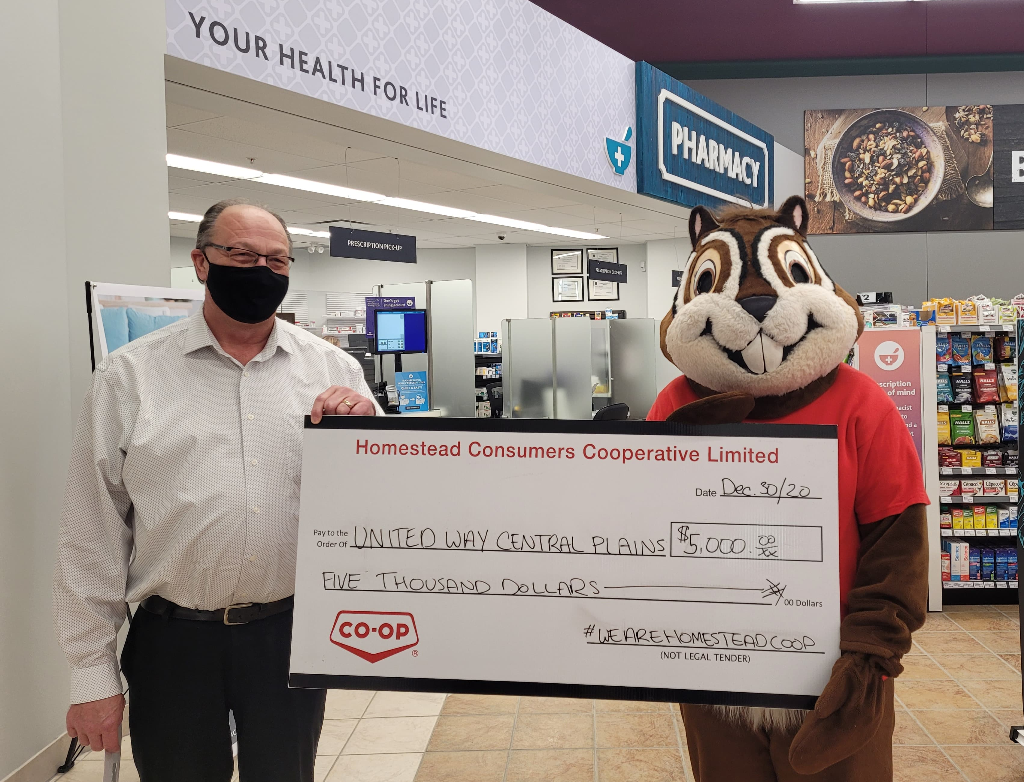 We Are Homestead Co-op
As you may know, Portage and Homestead Co-op amalgamated in February 2019. We are a retail co-operative that has proudly served Southern Manitoba for more than 90 years. We celebrate legacy, relationships, and community.
Thank you for joining with us as a co-operative to help make our community a great place to live and work.
We are neighbours. We are community. We are members.
#WeAreCoop #WeAreHomesteadCoop