COVID-19 UPDATE
March 18, 2020
*Updated May 21st, 2020*
COVID-19
To our Valued Customers
With COVID-19 being declared a global pandemic that is a global challenge and has a real impact on all Western Canadian communities Co-op serves and the impact it's having on you.
Homestead Consumers Co-op is taking steps across all our facilities to help our communities stay safe and healthy. We are saddened by the news of all those who have been affected and we want to be diligent by doing our part to prevent more impacts.
Our stores are cleaned and sanitized daily as part of our normal business, but all stores are increasing the frequency of cleaning. We are also ensuring that available preventive resources are made available to both customers and employees.
Given the guidance that we have received from the Public Health Agency of Canada and Manitoba Public Health as well as our own preparedness efforts, we believe that we are taking the right steps to ensure that your local co-op stores are safe.
As of May 24th we are implementing our new Homestead Co-op Hours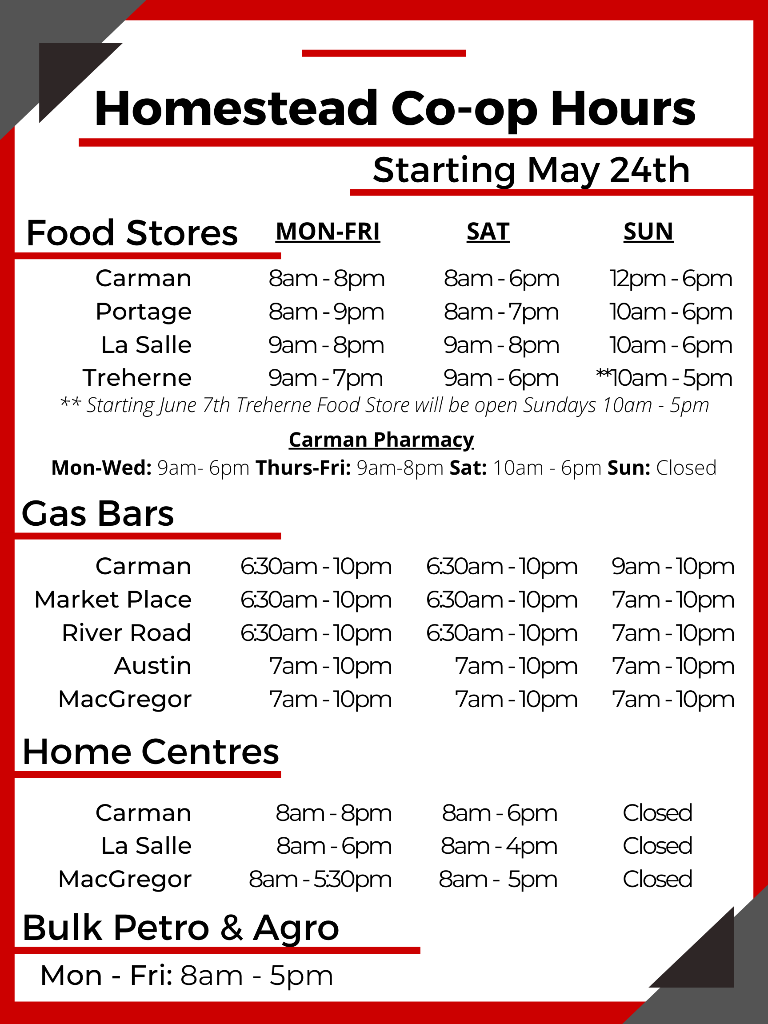 Please see the Attachments Below for: Agro/Bulk Product Delivery & Pick-up Options and Preferred Account Payment Options and Current Item Limits
If you are self – quarantined, immunocompromised, or otherwise have reason to not visit us in person please call your local Food Store for delivery details.

Portage – 204-856-2135 or e-mail: kidsclub@homestead.crs
Carman – 204-745-2544 or e-mail: foodservicecarman@homestead.crs
Carman Co-op Pharmacy – 204-745-3602
Treherne – 204-723-2208
LaSalle - 204-736-3011
All Delivery fees will be waved until further notice.
We ask that you help lower the number of patrons in the stores, and pay your charge account via online banking or mailing a cheque to Box 70 Portage la Prairie MB R1N 3B3

The Carman Administration Office is Closed to the Public. Thank you for understanding.
Thank you for being a loyal Co-op member and customer.