CLEANING SERVICES REQUEST FOR QUOTE
Actions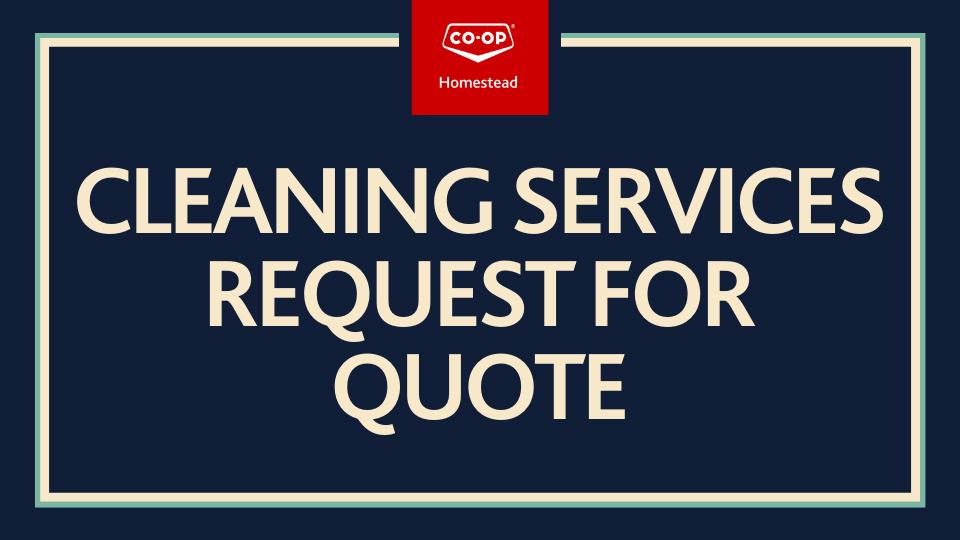 CLEANING SERVICES REQUEST FOR QUOTE
May 8, 2023
Homestead Consumers Co-op Ltd.
CLEANING SERVICES REQUEST FOR QUOTE
Terms: Contract(s) to run from September 1st, 2023 to August 31, 2026.
We welcome you to send quotes for the janitorial services for any or all of our locations at: Carman Food Store, Carman Home Centre, Carman Administration Office, Carman Bulk Office and/or Portage Food Store.
Cleaning tender should be quoted individually by location. Contractors can submit a quote for 1 location, or all 5 locations. The quotes must be individual (billing will also have to be individual)
Tenders can be mailed, addressed to the undersigned, and the envelope clearly marked Tender for Cleaning Services. Tenders may also be emailed to the following address: lisa.lehouillier@homestead.crs
Tender closes on June 16th at 12:00 PM
Lowest or any tender not necessarily accepted.
If you would like to arrange a tour of the location prior to submitting a quote, please email lisa.lehouillier@homestead.crs

Lisa Lehouillier - Controller
Homestead Consumers Co-op Ltd.
P.O. Box 790
Carman, Manitoba R0G 0J0
lisa.lehouillier@homestead.crs
Phone: (204) 745-2073 Fax (204) 745-6153
Other Notes:
• All employees are to be insured for WCB along with liability and employee rider for your protection
• All employees are bonded, insured and WHMIS certified, and subject to the Homestead Contractor survey
• All quotes to be submitted by June 16, 2023 12:00 pm, via email to lisa.lehouillier@homestead.crs
Please see attachments for each locations cleaning details.

Discover more: