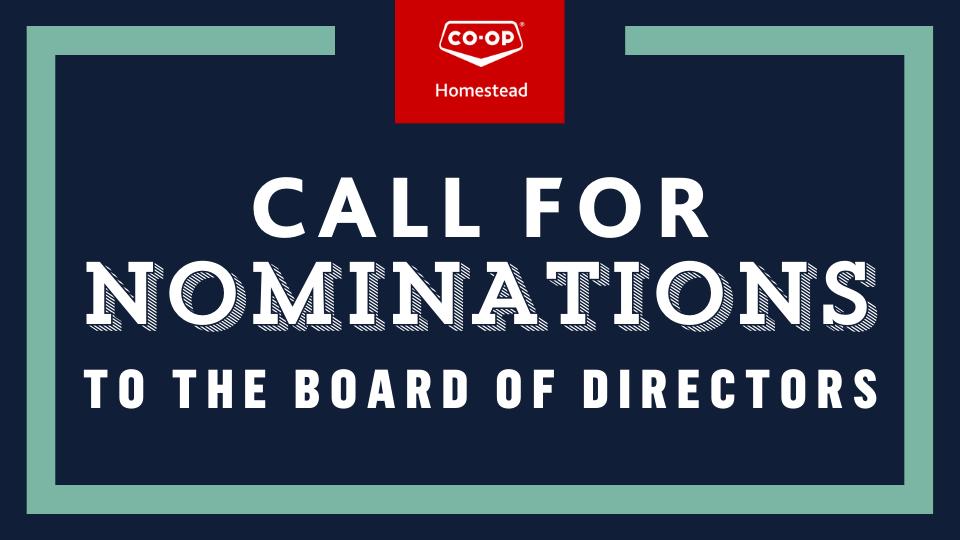 Call for Nominations 2023
March 3, 2023
If you have experience or interest in financial and business operations, enjoy working in groups and care about the future development of Homestead Co-op, consider allowing your name to stand for nomination as a Director. (Directors will be elected for a three-year term.)

Applications for nominations to the Board of Directors can be sent out by contacting:
nominations@homestead.crs
Deadline for nominations is April 27, 2023.
Nomination Procedures:
All nominations must be emailed to: nominations@homestead.crs
Members wishing to be nominated for the position of Director of the Cooperative must deliver nominating papers at least 14 days before the meeting of the members at which Directors' terms of office expire.
All nominating papers submitted must include the following:
(i) Be signed by at least two members other than the nominee.
(ii) Be accompanied by a brief biography of the nominee.
(iii) Contain the written consent
of the nominee.
'Enhancing Community Life'

Discover more: