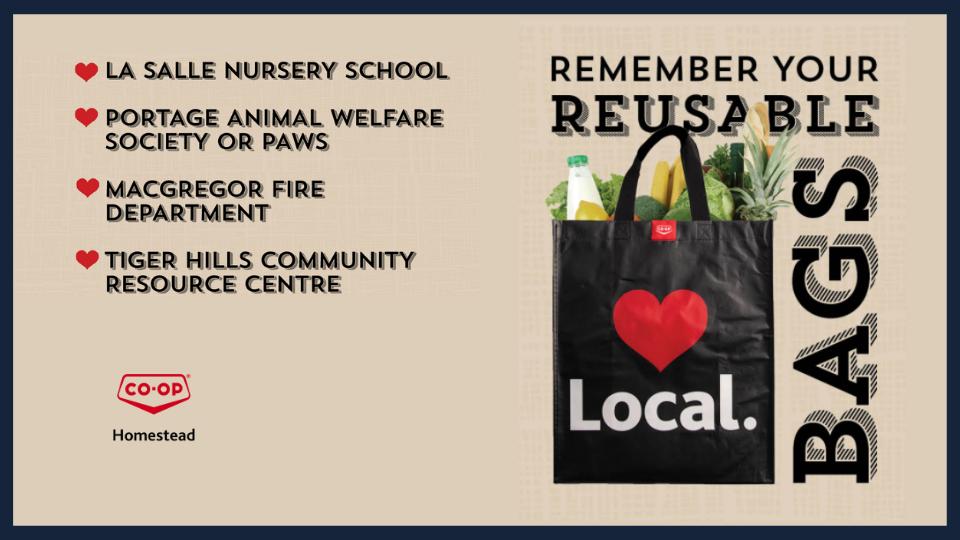 2022 Reusable Bag Program
March 17, 2022
REMEMBER YOUR REUSABLE BAGS
Giving back is core to who we are here at Homestead Co-op and we strive to be locally invested in our communities. It is very important to our organization that we are committed to contributing to the betterment of our communities, our members and our employees.
It is because of your support at our Co-op locations that we are able to give back generously to our community.
Sustainability at Homestead
Here at Homestead Co-op, sustainability is important to us. In 2020, we introduced our new plastic bag reduction program at all our food store locations in Portage, Carman, La Salle and Treherne. This program is part of our commitment to sustainability by supporting our members, and communities in reducing single-use plastic bag waste. As part of the program, we donate 3₵ cents for each reusable bag used by our customers.
Reduce, Reuse, Donate
In 2022, we raised over $5,600 for local organizations in the communities where our Food Stores are located through our reusable bag program. Since the program was introduced in 2020, we've raised over $13,000. 2022 was the final year for this program.

2022 Organizations
This year, the donation will be split equally between the following groups:
La Salle Nursery School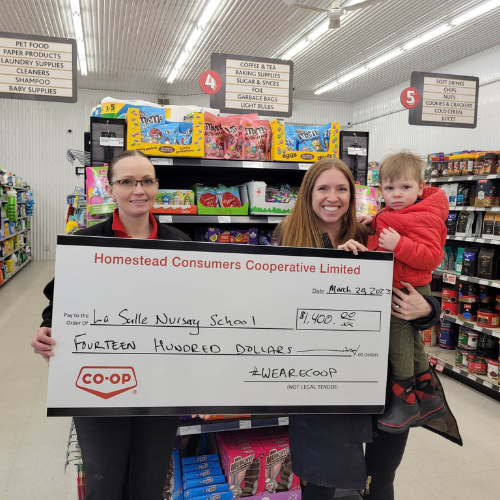 La Salle Nursery School promotes a relaxed atmosphere, where the children participate in a program that is geared toward Kindergarten readiness by promoting freedom of choice, independence, responsibility, and respect for themselves and others. The program also promotes emotional, physical and intellectual development of the child. A normal session at the La Salle Nursery School consists of 50% free play, 50% guided arts and crafts, stories, songs, and rhythm, organized physical activity, dramatic play and snack time. The funds they received will be put towards field trips for the children and plants for their garden box.

Portage Animal Welfare Society (PAWS)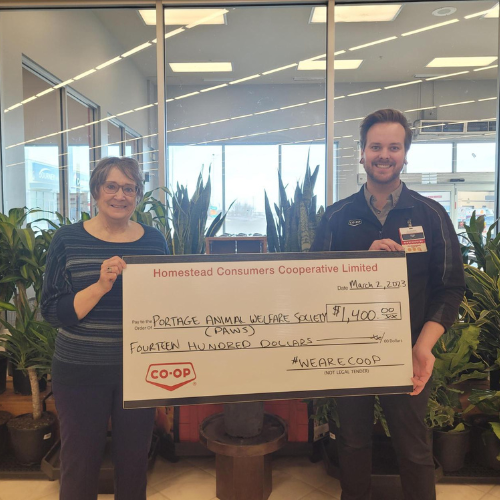 Portage Animal Welfare Society Inc. is a non-profit, charitable organization which is operated exclusively by volunteers and is managed by a Board of Directors. Their mission is to improve the quality of life of stray and abandoned companion animals in and around the community of Portage la Prairie. The donation they received through this program will be used to upgrade their laundry facilities.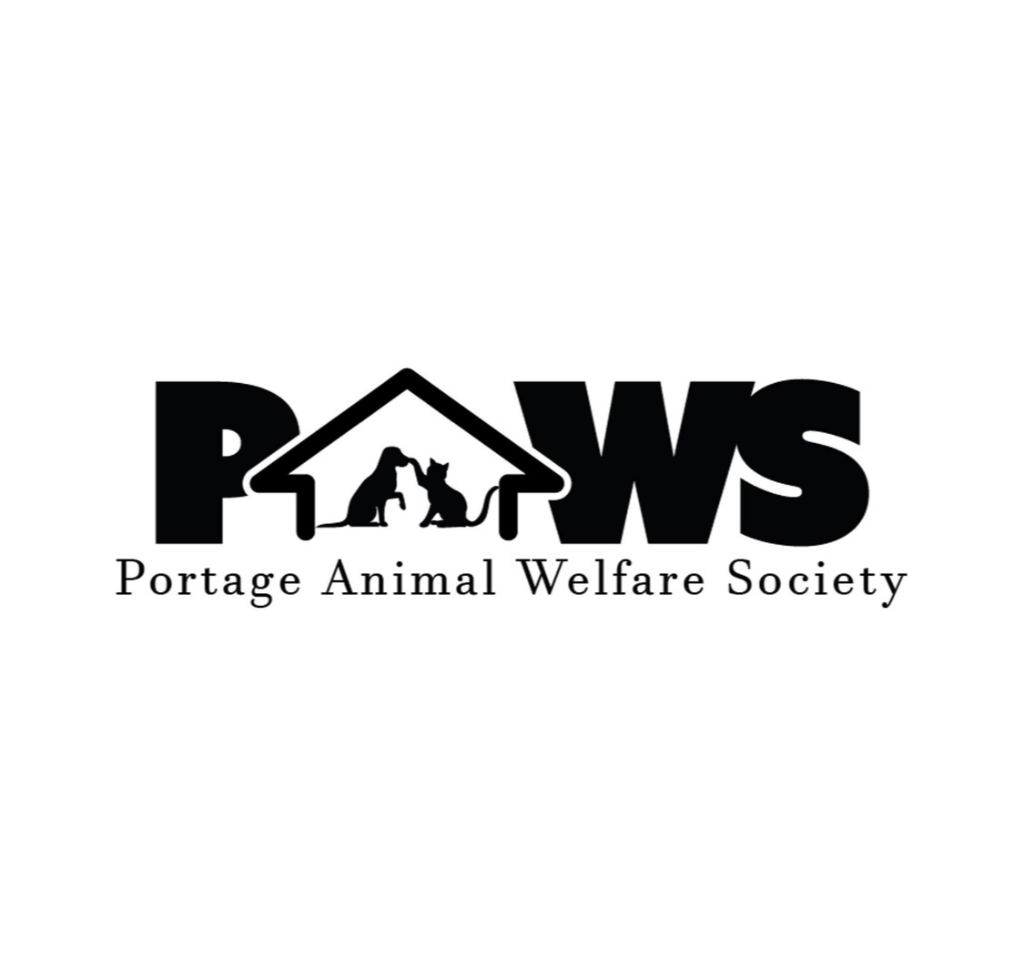 MacGregor Fire Department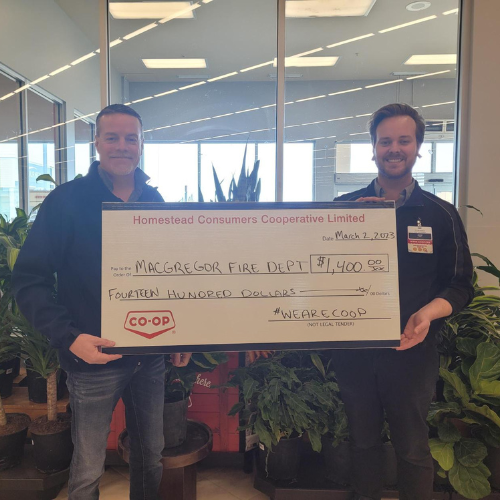 Serving the Municipality of North Norfolk and community, the MacGregor Fire Department has 31 volunteer members on staff. They have five units in the MacGregor Fire Department, which include the Main Fire Truck Fire 1, Fire 2 Wildland/Fire Response, Tanker, Rescue, Crew Side by Side for wildland firefighting/rescue, as well as snowmobile rescue. They also have Vehicle Extrication Equipment on their units. The donation they received will be used towards purchasing new equipment for their departtment.

Tiger Hills Community Resource Centre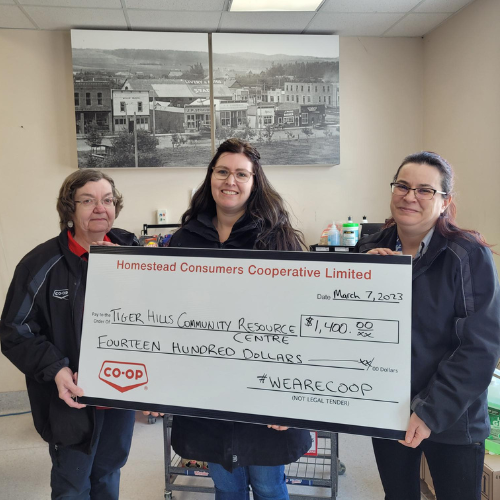 THCRC is a licensed child care centre for children aged 3 months to 12 years of age. We provide care for families in Treherne and the surrounding area. Our staff bring forth a relaxed, adaptable atmosphere promoting positive social/emotional development through stimulating and authentic learning activities. The donation they received will be used towards upgrading their library area, including new books and tables and chairs.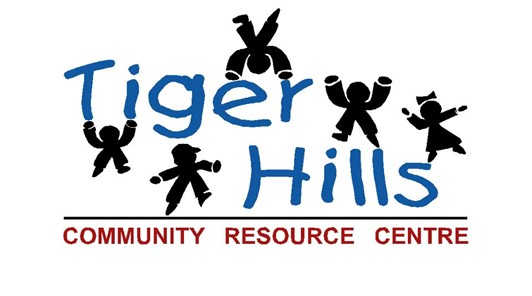 Discover more: