Homestead donates $6,500+ to local fire departments
Actions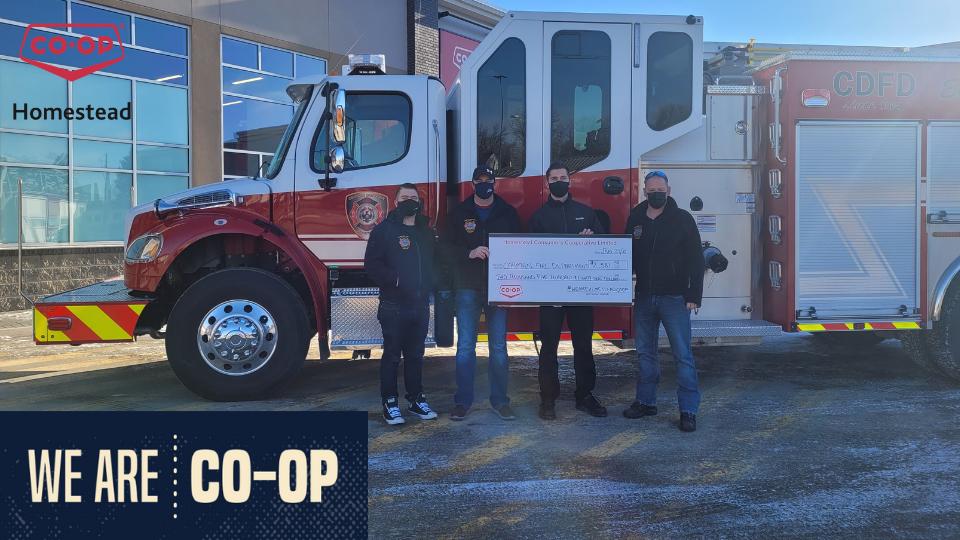 Homestead donates $6,500+ to local fire departments
February 1, 2021
Giving back is core to who we are here at Homestead Co-op and we strive to be locally invested in our communities. It is very important to our organization that we are committed to contributing to the betterment of our communities, our members and our employees.

It is because of your support at our Co-op locations that we are able to give back generously to our community.

Reduce, Reuse, Donate

In 2020, we raised over $6500 for local fire departments in the communities where our food stores are located through our reusable bag program. These included the Carman Fire Department, Portage Fire Department, Macdonald Fire Department (near our La Salle location) and the Treherne Fire Department with the total reusable bags tracked and associated donations listed below.
Sustainability at Homestead
The donation was collected through our reusable bag program, a program connecting back to our sustainability initiatives. The intent of the program was to raise money for local fire departments by donating $0.03 for every reusable bag that was used at our food stores in 2020.
| | | |
| --- | --- | --- |
| Fire Department | Reusable Bags | Donation: $0.03/bag |
| Carman | 86,053 | $2,581.59 |
| Treherne | 10,546 | $316.38 |
| La Salle | 19,031 | $570.93 |
| Portage | 103,570 | $3,107.10 |
| Totals | 219,200 | $6,576 |


Supporting Local Heroes

We chose the fire departments as our initial non-profit organizations to donate to as the funds were coming from our four different Homestead Co-op Food Store locations. This enabled us to have the ability to donate to four different fire departments in local rural communities. We know how important the work of our fire departments is and they are always giving back to the community so this was our way of showing our support.
Carman Dufferin Fire Department
Some members of the fire department, Fire Chief Ben Vanderzwaag, Deputy Fire Chief Chris Lemky and Lieutenant Joey McElroy, stopped by our Carman Food Store on Thursday, January 21, 2021 to accept their donation from our Food Store Manager, Justin Major. The donation of $2,581.59 to the Carman Dufferin Fire Department will be used for upgrades and ongoing development of the Carman Dufferin Regional Fire Training Site.
The Carman Dufferin Fire Dept is a Training Department and hosts many of the Fire Training Courses for the Boyne River Mutual Aid District. The Carman Dufferin Regional Fire Training Site is an integral part of Firefighter Training. The Fire Training Site allows Firefighters to participate in "Live" Training Exercises such as: Structural Firefighter Training, Vehicle Extrication Training, Farm Equipment Rescue Training and Vehicle Fire Training. Through this hands on training, firefighters are enabled to do a safer, quicker and more effective job.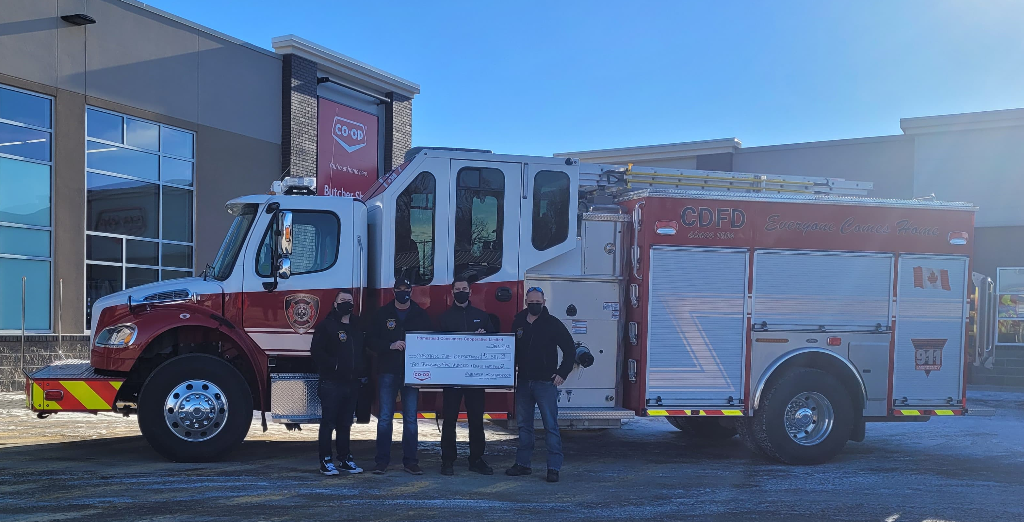 Portage Fire Department
Our donation of $3,107.10 was made to Phil Carpenter, the Fire Chief/Director of Public Safety with the Portage la Prairie Fire Department, who came to our Portage Food Store on Tuesday January 19th for a cheque presentation with our Grocery Manager, Mike Robinson. They will be using the donated funds towards a new thermal imaging camera, which costs around $10,000. In addition to their emergency services, they offer many other services to the public, such as public education, safety inspections, child car seat inspections, and administration of various by-laws.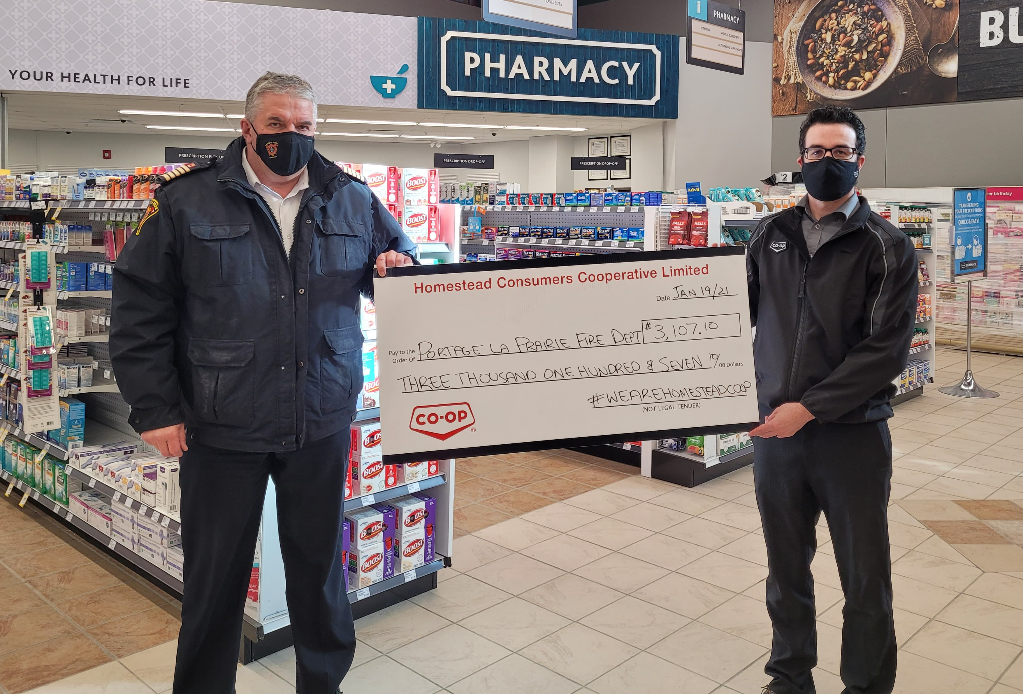 Macdonald Fire Department
We met with local Fire Fighter, Jeff Rudyk, from the Macdonald Fire Department on Thursday January 28th with our La Salle Food Store Manager, Neil Brelinski to present them with their donation of $570.93. Macdonald Fire Chief Mike Siemens also attended the cheque presentation and told us how the funds will be spent. Each Fire Fighter that does not live in Sanford (where the Fire Hall is located) is given a "Runner kit", which includes supplies typically used at an Emergency Incident. This Rubbermaid container includes:
1-2A10BC Fire Extinguisher
Approved safety vest for traffic incidents
Flash light with a traffic baton attachment
1 - roll of yellow safety/scene tape
Medical gloves
Blankets
Hand towels
Extra disposable face masks
In addition to this, these Fire Fighters also carry their Fire Fighting gear with them so they can respond directly to the incidents in their own vehicles. They are planning to expand this program for the Fire Fighters that also live in Sanford who normally take the Fire Trucks to the incident. With issuing these Fire Fighters these same kits, they have some resources available to them if they happen upon an incident in their personal vehicles, even if it isn't an actual dispatched emergency incident. Siemens told us: "We promote the "Good Samaritan" approach because if we don't stop and help, who will?"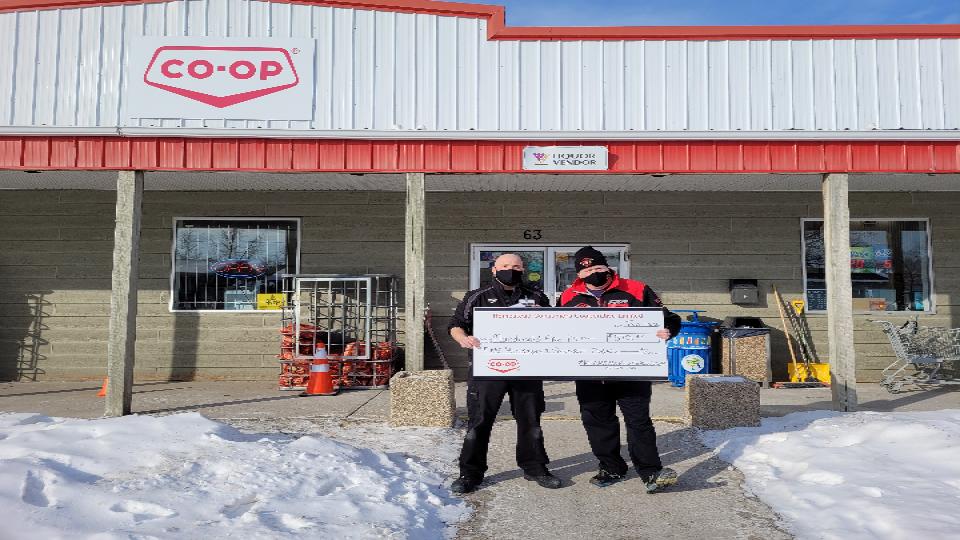 Treherne Fire Department
Our donation of $316.38 was presented to the Treherne Fire Department's Fire Chief, Pat Wilcox, by one of our Treherne Food Store Employees, Lorinda Turner on Friday January 29th. Their funds will go towards purchasing a portable battery charger for vehicles in case they lose power due to cold weather, etc.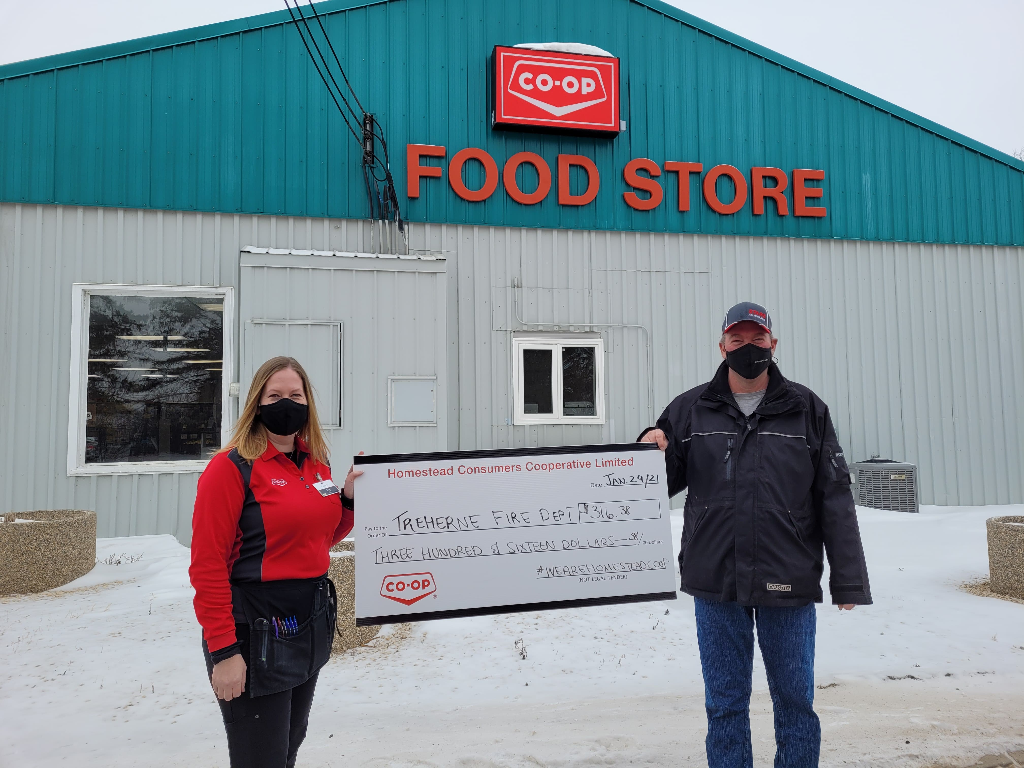 Program Continues in 2021

A big thank you to all of our local fire departments for the important work they do to help support our communities in so many ways. And another thank you to our members and customers who used a total of 219,200 reusable bags in 2020. We want to encourage our members and customers to keep remembering to bring in their reusable bags as the program will continue in 2021, with the charity (or charities) still to be determined.

We are community.
We are neighbours.
#WeAreCoop
#WeAreHomesteadCoop