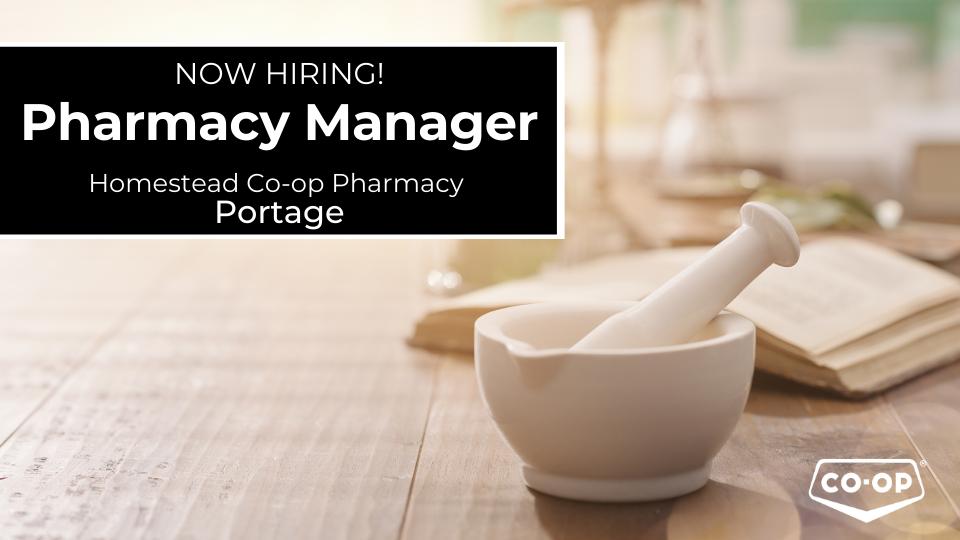 Pharmacy Manager - Portage
Portage Food Store - Pharmacy
Description:
Pharmacy Manager — Portage la Prairie Food Store
Full-Time
Deadline for applications June 12, 2020
Description:
Homestead Co-op is hiring a full-time Pharmacy Manager.
Who we are:
Co-op does business differently. As a co-operative, we believe in working together to serve Western Canada, delivering profits back to our communities and investing in sustainable growth. To learn more about who we are and how you can help bring our brand to life, visit us at www.homesteadco-op.crs
What you'll do:
Reporting to the B2C Operations Manager, the candidate will be responsible for the day-to-day operations of the Pharmacy Department. Duties will include, but are not limited to; dispensing prescriptions, creating awareness and educating customers through public relations, providing timely and positive resolutions to patient's needs, doctor's requests, providing patient counselling and complying with all legal requirements. (Federal and Provincial) Duties will also include complying with company policies, procedures as well as ensuring all ethical pharmaceutical care models are practiced. The candidate must be licensed to practice in Manitoba, injection certified and minor ailment prescribing certified.
Who you are:
You are looking for a career in Retail and:
- You have strong leadership and interpersonal skills and the ability to guide a team environment in a culture focused on safety, innovation and teamwork,
- You have effective decision-making skills, strong written and verbal communication skills.
- You have excellent customer service skills and the ability to problem solve.
- You are highly motivated.
- You possess strong interpersonal skills.
- Must be able to work a variety of shifts including days, evenings and weekends.
- You are honest and trustworthy, are results-orientated and strive to be the best in what you do.
Core Competencies:
Proven abilities in the following competencies is considered an asset:
1. Builds effective teams – building strong-identity teams that apply their diverse skills and perspectives to achieve common goals.
2. Ensures accountability – holding self and others accountable to meet commitment.
3. Plans and aligns – planning and prioritizing work to meet commitments aligned with organizational goals.
4. Develops talent – developing people to meet both their career goals and the organization's goals.
Our Team Members/Leaders receive competitive salaries, a comprehensive benefits package and an employer matched pension plan. We encourage our Team Members/Leaders to take advantage of learning opportunities, to grow and develop and to foster a culture of teamwork and innovation.
At Co-op, we embrace diversity and inclusion, and we're working to create a workplace that is as diverse as the communities we serve.
Send resume to:
Ray Phillips
Homestead Consumers Co-op Ltd.
PO Box 790
Carman, MB. R0G 0J0
Fax # 204-745-6153
ray.phillips@homestead.crs
We thank all candidates for their interest; however, only those selected to continue in the recruitment process will be contacted.
Application Deadline:
June 12, 2020