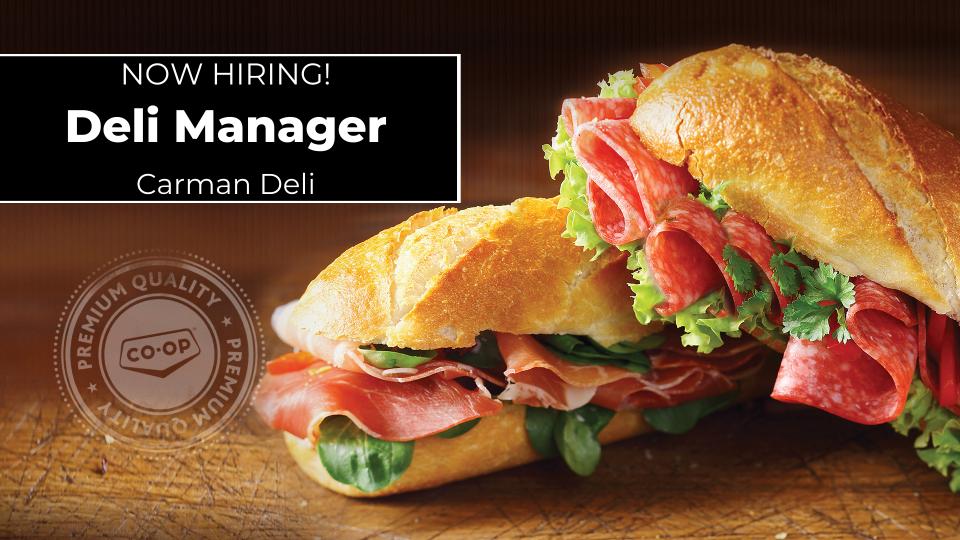 Deli Manager - Carman
Carman Deli Department
Description:
Homestead Consumers Co-op Ltd. invites applications for the position of Deli Manager to join our team at our Carman Food Store located in Carman, MB.
The Deli Manager is responsible for all communication, planning, organization, implementation and execution within the deli. The Deli Manager is responsible for providing leadership and direction to the deli team in all areas of people, finance, market growth, sustainability and operations.

Reporting to the Food Store Manager, responsibilities for this position include:
1. Provide a high level of customer service
2. Manage the deli inventory levels and lead scheduled inventory procedures
3. Ensure maintenance on all equipment, including Health and Safety codes and all regulations are followed
4. Interview, hire, and train new deli team members
5. Maintain schedule for all deli team members
6. Grow the deli business
7. Provide exceptional customer service
8. Participate in quarterly corporate performance management reviews
9. Engagement of team members, including performance management
10. Develop sales promotion programs
Qualifications
• Previous leadership experience is an asset
• Willingness to complete the Food Handlers certificate program
• Willingness to complete the Co-op Deli Advance program
Competencies
Proven abilities in the following competencies is considered an asset:
Ensures accountability – holding self and others accountable to meet commitments
Drives engagement – creating a climate where people are motivated to do their best to help the organization achieve its objectives
Plans and aligns – planning and prioritizing work to meet commitments aligned with organizational goals
Builds effective teams – building strong-identity teams that apply their diverse skills and perspectives to achieve common goals
Deadline: February 28, 2020.
Homestead Co-op operates 17 locations in the communities of Austin, MacGregor, Portage la Prairie, Oakville, Carman, Treherne, and La Salle. With over 21,000 members, 260 employees, and sales in excess of $120 million, Homestead Co-op is a leader in providing goods and services to our members. Our mission is to provide sustainable growth for our members, employees, and communities.
If you are interested in this opportunity or require additional information, please contact Ray Phillips, Human Resources Manager, 204.745.2073.
Please submit a detailed resume and cover letter in confidence to:
Ray Phillips
Homestead Consumers Co-op Ltd.
Box 790, Carman MB R0G0J0
Email: ray.phillips@homestead.crs
Fax: 204.745.6153
www.homesteadco-op.crs
Application Deadline:
February 28, 2020